The Gospel has Greeks coming to see Jesus at the Passover time. Jesus response in meeting the Greek visitors is to begin talking why he came to Jerusalem for the Passover Feast. He comes to be glorified—his suffering and death on the cross would be the means to his glory.

Read the full reflection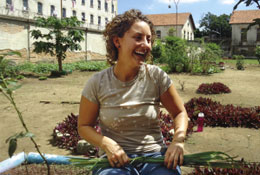 Katie Coldwell, Arts '09, wanted to be a missionary. She discovered what that means behind the walls of one of Brazil's largest women's prisons.