Mount Tabor is 1800 feet above sea level and it is the place that most ancient scholars agree is the site of the Transfiguration. In the Synoptic Gospels the transfiguration follows Jesus questioning his disciples: "Who do you say that I am?" When he saw they were starting to get it, he revealed a deeper understanding of himself.

Read the full reflection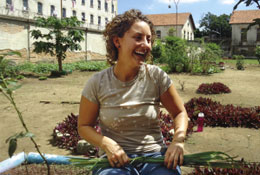 Katie Coldwell, Arts '09, wanted to be a missionary. She discovered what that means behind the walls of one of Brazil's largest women's prisons.